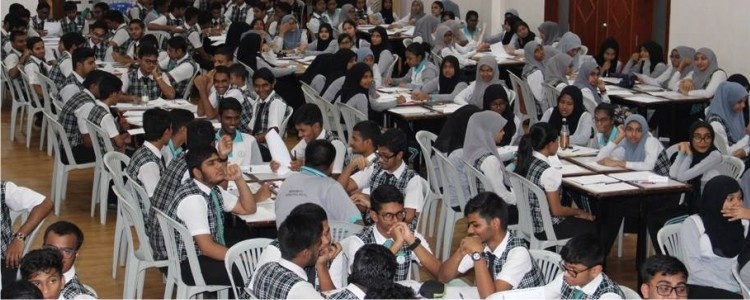 Start date: 13/01/2019
Duration: 2 years
Level: 14 - 17 years
Location: Main Campus
AIS offers a composite curriculum for Secondary Education, the school follows the Cambridge O Level, IGCSE O Level and SSC syllabuses.
Cambridge IGCSE is the world's most popular international curriculum for 14 - 16 year olds. It develops successful students, giving them excellent preparation for their next steps in education, including progression to the Cambridge Advanced stage, both Cambridge International A/AS Levels and Cambridge Pre-U.

Cambridge IGCSE encourages learner-centred and enquiry-based approaches to learning. It develops learners' skills in creative thinking, enquiry and problem solving, giving learners excellent preparation for the next stage in their education. Schools can build a core curriculum, extend it to suit their learners and introduce cross-curricular perspectives. Clearly defined learning outcomes and content, mean Cambridge IGCSE is compatible with other curricula and is internationally relevant and sensitive to different needs and cultures.
A broader curriculum is offered with Cambridge O levels.

The Cambridge O Level curriculum emphasises broad and balanced study across a wide range of subjects. It develops learners' skills in creative thinking, enquiry and problem solving and is structured so they build practical skills and theoretical knowledge.
Cambridge O Levels develop learner knowledge, understanding and skills in:
Subject content
Applying knowledge and understanding to familiar and new situations
Intellectual enquiry
Flexibility and responsiveness to change
Working and communicating in English
Influencing outcomes
Cultural awareness.
| | Subject | Curriculum |
| --- | --- | --- |
| 1 | Islam | SSC |
| 2 | Dhivehi | SSC |
| 3 | English as Second Language | IGCSE |
| 4 | Mathematics | IGCSE |
| 5 | Physics | O Level |
| 6 | Chemisty | O Level |
| 7 | Biology | O Level |
| 8 | Principles of Accounts | IGCSE |
| 9 | Economics | O Level |
| 10 | Business Studies | O Level |
| 11 | Marine Science | O Level |
| 12 | Computer Science | O Level |
| 13 | Travel & Tourism | O Level |
| 14 | Mandarin | CIE |
| 15 | Arabic | CIE |
| 16 | Art & Design | CIE |
| 17 | French | CIE |
| 18 | Social Studies (Grade 9) | SSC |
| 19 | Art & Design | CIE |
| | | |
| Description | Amount |
| --- | --- |
| New Student Registration Fee | MVR 1000 |
| Full Time Monthly Tuition | MVR 1000 |